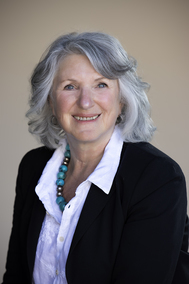 Responsible Broker/Owner, SRES
---
Originally from New York, Diane has resided and worked in many locations nationwide. She received a BFA from the Boston Conservatory of Music and MA from UCLA.

After numerous years of teaching dance, and related arts, at a variety of colleges and universities, a severe injury led her to explore new life paths including as Development Director for L.A.'s Plaza De La Raza, contracts negotiation for Actor's Equity Association, developing programs and fund raising for not-for-profit arts institutions as well as directing productions for the 1984 Olympic Arts Festival and numerous other theatrical endeavors.

Begining her real estate career in the Los Angeles area in 1983, Diane moved to Wyoming ten years later, and in 2001, decided to create a unique, completely engaged real estate team known for excelling in superior communication and integrity while representing Buyers and Sellers in Jackson Hole Wyoming and in Montana.

Now residing in Jackson Hole, and at her family ranch on the Rocky Mountain Front Range in Montana, Diane has had thoroughly enjoyed the opportunity to explore, along side her Husband, and continuously nourish her love for the wilderness and of the animals who inhabit these most special places.All the while, continuing to thrive at her Brokerage and supporting the arts and its positive role in all cutlures.

Certified as a Senior Real Estate Specialist SRES.

Diane and her Associates look forward to successfully assisting you with your real estate endeavors and pursuits.